Shopping Cart
Your Cart is Empty
There was an error with PayPal
Click here to try again
Thank you for your business!
You should be receiving an order confirmation from Paypal shortly.
Exit Shopping Cart
Trusted National and Worldwide Supplier of Affordable DSLR Astro Cameras since 2013
Well, after working for a while on my last project, I have managed to access the firmware of the Canon 1100D (Rebel T3) to change the firmware so that the camera can compensate automatically for the shift in colour created by the BCF corrector filter. Now when the DSLR is used in any of the automatic camera modes, as well as Auto WB and Auto ISO, the camera will produce colour corrected, realistic, daylight terrestrial pictures without any further post processing or any need for a custom white balance.
As far as I know, nobody is offering this modification so it will go on sale worldwide in the next few days and we'll see the reception of this possibility. 

Because a second hand canon 1100D is similar in price to a new camera, I will offer this mode with new cameras; with and without the  18-55mm EF-S lens. They will go on sale for £399 and £440 respectively and the price accounts for the £53  Baader corrector filter.
I'm showing two pictures underneath. One of them was taken by a stock unmodified Canon EOS 1100D. The other picture was taken by a Baader modified astrocamera with this firmware enhancement. Can you tell the difference?
Well, last Monday wasn't the ideal night for astrophotography as it was a bit hazy. Nevertheless, I took the scope out as I needed to sort out some issues.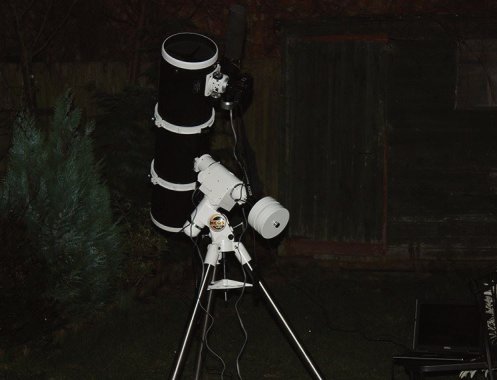 My main concern was getting the Orion Starshoot Autoguider to work. It turned out that the problems I had with the autoguider were due to the fact that I hadn't installed the drivers properly. The OSA worked flawlessly throughout the night and I let my setup working on its own for 3 hours.
This is what I found early in the morning when I went to set down my equipment.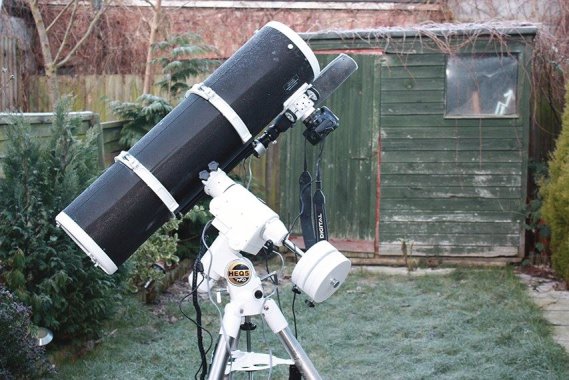 The dew shield made of foam card  and velcro strips (Hobbycraft -£2) that I had improvised seemed to work really well with my guiding scope and I am now considering making another one for my ED80. If it works fine I might not need a dew controller after all.
However, not everything was good news. I found out that, just as with my SPC 880, the Orion Starshoot Autoguider won't focus to infinity with my Stellavue F50 finder. I had to use a 2X barllow for that, which obviously limits my choice of guiding stars with a reduced field of view. I have  now ordered an adapter from Modern Astronomy to see if I may be better off guiding through my standard Skywatcher 9X50 finder.
Well, after nearly two months of continuous cloudy skies, I've managed to take the scope out and try the starshoot autoguider, among other things. Unfortunately, the computer kept crashing every time I asked PHD to connect to the autoguider. I ended up guiding through my webcam as usually because I didn't want to waste precious time sorting out software issues in the dark.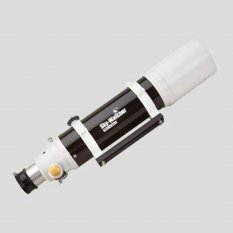 Also, I was desperate to try my new toy: a Skywatcher Evostar ED80 DS Pro. I've found the scope very light but then I'm used to my SW200P newtonian which makes my HEQ5 Pro work at its limit.
The ED 80 seems like a really nice scope. I used it with the focal reducer/flattener recommended by Skywatcher and I must say that I didn't have any problems with the standard focuser. That had been a concern, particularly after reading some reports on SGL. However, very early in the night, it became clear that I'm going to need some sort of dew controller to take the most out of this little scope.
My target was the Horsehead nebula but, by the time the moon was out of the way, the horsey was very low in the western horizon, washed away by the light pollution coming from central London. Nevertheless, in the couple of six minute subs that I managed to take, it is clear that the ED80 is very good at bringing out all the colour of the stars. I haven't seen that kind of colour in the pictures taken with my 200P.
As expected, the astromodified Canon 450D with the colour correction filter removed performed flawlessly. The retained LP1 IR UV cut filtered out both the UV and IR ends of the spectrum keeping star bloating under control.
I can't wait for some clear skies. Thanks to UK Astronomy Buy & Sell, I've managed to find a second hand Orion Starshooter autoguider at a very good price (thanks Peter). The next clear night I'll try it out while testing the last couple of cameras I have modified.
So far, I have been guiding with a Philips 880 SPC flashed camera in my Stellarvue F50 -a finder that takes eyepieces. Finding and centering a bright enough guide star has been a struggle and I can't wait to try a proper autoguider which should give me plenty of stars to choose from. That will save me a lot of time and frustration.
So far, I've been using a 2X barlow to extend the focal length of my finder to 400mm. This has obviously significantly reduced the field of view and and made very difficult to centre the guiding star. I've been advised to use the OSA without the barlow as the 200mm FL of my finder should apparently be enough for autoguiding.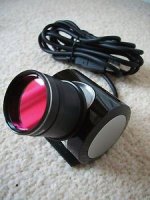 One of the things that caught me by surprise is the weight of the OSA. The webcam is much lighter and has given me nice planetary images but I must simplify the guiding process, particularly in this weather with so little astroimaging time!


/