Shopping Cart
Your Cart is Empty
There was an error with PayPal
Click here to try again
Thank you for your business!
You should be receiving an order confirmation from Paypal shortly.
Exit Shopping Cart
Trusted National and Worldwide Supplier of Affordable DSLR Astro Cameras since 2013
| | |
| --- | --- |
| Posted on February 18, 2013 at 10:54 AM | |
Well, after nearly two months of continuous cloudy skies, I've managed to take the scope out and try the starshoot autoguider, among other things. Unfortunately, the computer kept crashing every time I asked PHD to connect to the autoguider. I ended up guiding through my webcam as usually because I didn't want to waste precious time sorting out software issues in the dark.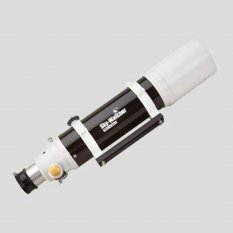 Also, I was desperate to try my new toy: a Skywatcher Evostar ED80 DS Pro. I've found the scope very light but then I'm used to my SW200P newtonian which makes my HEQ5 Pro work at its limit.
The ED 80 seems like a really nice scope. I used it with the focal reducer/flattener recommended by Skywatcher and I must say that I didn't have any problems with the standard focuser. That had been a concern, particularly after reading some reports on SGL. However, very early in the night, it became clear that I'm going to need some sort of dew controller to take the most out of this little scope.
My target was the Horsehead nebula but, by the time the moon was out of the way, the horsey was very low in the western horizon, washed away by the light pollution coming from central London. Nevertheless, in the couple of six minute subs that I managed to take, it is clear that the ED80 is very good at bringing out all the colour of the stars. I haven't seen that kind of colour in the pictures taken with my 200P.
As expected, the astromodified Canon 450D with the colour correction filter removed performed flawlessly. The retained LP1 IR UV cut filtered out both the UV and IR ends of the spectrum keeping star bloating under control.
Categories: Astrophotography
/